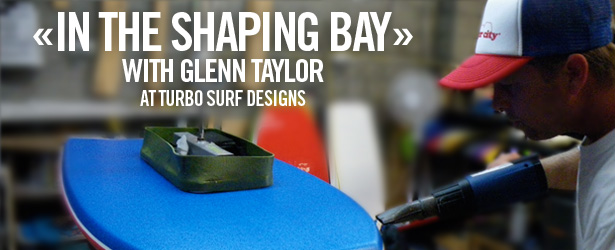 Glenn Taylor Interview "In the shaping bay" with Glenn Taylor
We spent a couple days in Port Macquarie, Australia while tripping on the east coast (of OZ) a few months ago and got the opportunity to stay two days with Glenn Taylor, headshaper at TURBO SURF DESIGNS. Glenn took us to the TURBO factory for those 2 days and we had the great opportunity to stay at the factory all day and film Glenn when he shaped us a board and shoot pictures of everything we wanted to shoot. Even got to help Glenn a little with laminating and stuff. Pretty cool days at the factory.
The result is this 12 minutes documentary on how to shape a board as well as a massive amount of pictures taken while Glenn was shaping our board and a bunch of other boards. We filmed the whole process (it takes about 3+ hours to shape a custom board, depending on the options you've chosen) but only kept 12 minutes of footage, edited into 30 steps to have the board build. It would have been too long to watch 3 hours on video hey!
If you don't know how a board is shaped you definitely wanna watch this ! If you wish to download the documentary feel free to subscribe to our podcast (it's free on iTunes), we have uploaded the 12 minutes clip on it last night ! If you're already a subscriber, then just refresh the iTunes podcast page on your computer.
The last thing we did once we had gathered all the footage and pictures was to interview Glenn. Glenn shapes the TURBO custom boards in Port Macquarie, Aus. pretty much everyday of the week and all the boards are shaped by hand as you will see on the video. We asked him how he started and what it's like to be headshaper for Turbo, how he started Turbo with his bro and what his next projects are.
Enjoy.
EXCLUSIVE VIDEO CLIP – Watch the video "In the shaping bay with Glenn Taylor"
EXCLUSIVE PHOTOS – Launch the photo slideshow from "A day at the Turbo factory with Glenn Taylor"
Hi Glenn how are you ? can you introduce yourself and what you do ?
GT: G'day, I'm Glenn Taylor Owner / Shaper for Turbo Surf Designs
You started Turbo Surf Designs with your brother in 2007. Turbo was based in Hawaii/USA in the 80's and 90's (correct me if i'm wrong) and you guys are in Oz, pretty far away… Can you tell us what Turbo Surf Designs was in the old days for those who don't know and can you tell us what motivated you and you brother Gregg to buy the Turbo license and put Turbo back on its feet ?
GT: Turbo Surf Designs (Turbo) was founded in Hawaii in 1983 by the legendary Russ Brown ("Captain Turbo"). Russ Brown's passions were Art & Bodyboarding, so this is where the name TURBO came from (The Ultimate Russ Brown Obsession). Turbo rocked the bodyboarding industry by providing a viable alternative to the Morey Boogie dominance –a stiff board that could be custom tailored to suit your riding preferences. Prior to this innovation, the bodyboard was a soft over-flexible piece of foam. Turbo revolutionized the sport of bodyboarding and has set its own course since. This is where vinyl printed graphic decks, contoured decks & hard slicks started from. Turbo progressed to the top of the bodyboarding food chain in the 1980's and 1990's as they continued to push the boundaries of the sport of bodyboarding. Turbo was the premium brand in the world of bodyboarding.
What motivated both Gregg & myself to return Turbo to the premium brand in the world of bodyboarding is that we are genuinely passionate about the grass roots of the sport and we are committed to developing bodyboarding to the next level. Turbo is a brand which helped mould the sport of bodyboarding into what it is today and we believe Turbo is the brand to lead bodyboarding into the future.
The Turbo stock boards are made overseas but all the custom boards orders and all the team riders boards are hand shaped in Oz by yourself. Can you tell us what your job is as the Turbo head shaper and what your everyday job consists of ?
GT: My major focus as the Head Shaper is to design the Turbo range of boards. This involves using my own experience and feedback from our global team riders to experiment with new board designs and materials. The team riders along with myself test the boards and we fine tune them to the perfect specifications. This years range is the result of an 18 month process and I am really satisfied with the new Turbo range of boards.
My typical day at the Turbo factory consists of making the custom board orders from all around the world. It is basically heads down in the shaping bay for most of the day. With having the Turbo factory located here in Port Macquarie (the Bodyboarding capital of Australia ) I have a lot of regular visits from the local crew, who come in to fine tune their next board design. This is where I get a lot of personal satisfaction, in showing them the range of different materials & explaining what different combination of core/shape & stringer systems would work best for them. For the guys who cannot make it to the factory, I always try to speak with them over the phone or email to make sure they get the full benefit of a custom designed board.
Where and how did you learn to shape ?
GT: I started working for Manta in the early 1990s, this is where I gained all my knowledge. I was taught by Terry Fleming (owner/creator). Manta boards were 100% manufactured here in OZ so I learnt every aspect of board construction from working for countless years in the production line. In time this led me into custom boards for the Manta team riders, who at the time were one of the strongest bodyboarding teams in the world.
You shape almost everyday all day and the demand for custom boards keeps on growing, do you think custom boards are more and more popular ?
GT: Yeah for sure custom board design has become very popular, especially here in OZ as riders are more aware that board design is an individual thing. Riders know that different cores/stringers provide different flex & personal specs can be used to fine tune each board for specific wave conditions.
There are tons of bodyboarders in Port Macquarie so you obviously shape a lot of customs for the local rippers who want to buy themselves custom boards but you've told me you will soon be offering this service to customers worldwide. How much is the average board ? What kinda cores and options can the customers choose from ?
GT: As a special introductory offer for the European market we are offering a fixed price of 250 euro for a custom made board delivered to your door. Delivery time should be less than one month from the day of placing the order. The material that we offer range from 4 types of cores; Beaded Poly Pro (BPP), Extruded Poly Pro (PP), FRC ( Flex Response Core) & Polyethylene (PE). I also use 2 types of stringer ; Standard tube stringer plus a Springer flex tube stringer, 2 types of deck materials; 8Lb PE & WBS (water barrier skin) & we use only the best slick available (Surlyn), in combination with a huge range of special features such as nose bulbs and deck contours. Please check out www.turbosurfdesigns.com for more detailed information under the Customs section.
You shape boards for all the Turbo team, like Mason Rose, Morgan Brown, Chad Jackson, Andre Botha etc. What do those guys ride ? They probably all have their little habbits ? Who's the most picky rider with his boards ?
GT: Guys like Mason, Andre & Chad they mainly use PE boards and Morgan, Garth, Jacob & Robby use PP boards. Chad Jackson has recently converted to a contoured deck for his boards. Each rider has their own individual needs. In saying that none of the team riders are really too picky. Andre likes to have his boards really thick & Garth like his board to be really thin with a bit of rocker, where Mason likes his slightly reversed.
What are the current trends you see in the custom boards orders right now ? narrow boards ? PE core ? Are kids asking for boards that look like their favorite riders' baords ?
GT: One of the main requests is core thickness, as lots of people are asking for thinner cores with thin noses. And yeah narrower boards definitely seem to be more in demand. As for cores that is still pretty even, but now with BPP & FRC available for customs, people are trying different material combinations to best suit them. In regards to the shapes that are requested by many kids, most of them are usually just asking for their favourite riders template but with their own colour combo & size.
You guys sponsored the Pipe event this year, how was that ? You went to hawaii and organized everything and enjoyed the show ?
GT: Getting to sponsor the Pipe comp this year was an amazing opportunity. There are so many people involved in a comp setup. So we cant take the credit for everything. For example the Pipe comp is run by the IBA, which consists of guys like Terry McKenna & Jason Bitzer who organize the whole package, with other guys like Big Todd , Bob Thomas & a crew of officials. We personally had Keith Sasaki & Eddie Solomon over seeing the preparation from start to the finish. The whole pipe comp was an amazing experience, to be able to watch one of the best & most competitive Pipe comps in the sports history was surreal.
Apart from worldwide custom boards service, what are the futures plans and projects for the brand and its riders in 2009 ?
GT: A big part of Turbo's plans for the future is to continue to support Bodyboarding at all levels. We want to be involved in helping the sport to progress into the next level.
Mason, Chad and Andre all have just released their new signature boards that we are all stoked with. The Turbo IV is now available in 3 core options and gets better each year! We also have released a Stand Up bodyboard, which is perfect for those typically small summer days.
In collaboration with Robby Gray, we have launched a performance board designed for younger bodyboarders at a more affordable price. This board is branded the 'Shock Monkey' board.
We have recently launched a women's bodyboard label called 'Milkshakes'. The Milkshakes label provides a range of boards for the female rider ranging from entry level to advanced.
More information about the Turbo board range, Designs customs, Milkshakes and the Shock Monkey can be found at www.turbosurfdesigns.com
Turbo and Milkshakes are launching in Europe in 2009 and we are in the process of building a European team.
Thanx Glenn !
Cheers,
Theo
EXCLUSIVE VIDEO CLIP – Watch the video "In the shaping bay with Glenn Taylor"
EXCLUSIVE PHOTOS – Launch the photo slideshow from "A day at the Turbo factory with Glenn Taylor"
Comments off